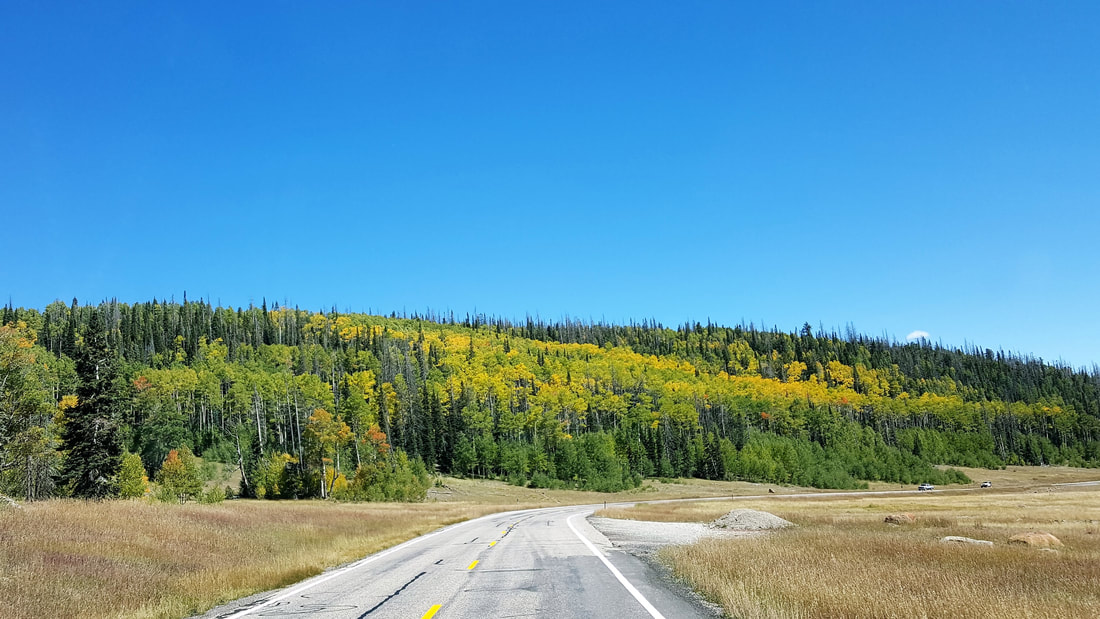 FROM YOUR BOARD OF DIRECTORS
Summer of 2017 has been a busy one on the mountain. We had two great membership meetings: one on Memorial Day Weekend and one on Labor Weekend. If you didn't make the meetings, please try to join us next year! We have three new board members: Paul Maalouf - Vice President, Ross Weckesser - Board Member and Alternate Board Member, Bill McIntyre. We welcome them to the board and look forward to doing great things for our property owners. We have been working on the Greater Duck Creek Area Community Wildfire Preparedness Plan in conjunction with state and local officials, as well as Cedar Mountain Fire Protection District and the Kane County Fire Warden. This plan is an important tool for emergency response teams should there be a major emergency response required in the area. It outlines subdivision access, contact points for local subdivision and property owners associations, as well as sets goals for fire and life safety issues. This will be an on-going effort. We have also been working with other property owners associations on the mountain to form a group to globally address concerns that we have in common. It is our hope that this will bring us more bargaining power with local and state authorities in addressing our concerns.
We are also continuing our efforts in revising our governing documents to make them more relevant for today's concerns. Although we face many of the same issues as our association founders did in the 1980's such as roads, we also face other issues that are not addressed in our governing documents, making it more difficult for enforcement. It is the overwhelming opinion of our membership that if we were a mandatory membership association, all property owners would share equally in costs associated with dust control and other issues, and a select few active property owners would not carry the burden of these costs. If all property owners paid dues of $75.00 per year, the association would be able to fund dust control on all the roads in the subdivision at a substantial savings to property owners who are funding this effort on an individual basis. Universal dust control would drastically improve air quality in our area and create a better quality of life for our residents, as well as visitors who support our local businesses. Stay tuned for more information on this effort.

---



Board of Directors' Goals for 2017-2018


Membership. Want to know what's going on in Strawberry Valley or on the Mountain? Join the SVPOA and come to the membership meetings! Help GET THE WORD OUT to your neighbors or new property owners in your neighborhood! Membership applications are available in the drop boxes at the bulletin boards by the dumpsters and outside the community center, as well as here on our website. Have a new neighbor? Let us know and, if we haven't already, we will deliver a welcome basket from SVPOA to them! (Scroll Down for More)Strawberry Valley Community Center. The Strawberry Valley Community Center is available to all property owners in the area to use for family gatherings, weddings, receptions, reunions and birthday or anniversary parties.

Cost is $50.00 rental fee donation with a $50.00 refundable cleaning deposit.

Use is not limited to SVPOA property owners or members.

Please contact Jerry Triebold or Salli Shackleford for more information and availability.

(Scroll Down for More)Roads and Parking. Please remember that no parking is allowed on subdivision roads.

We continued to have issues this Winter with property owners and visitors parking on the roads.

It is the responsibility of the property owner to clear parking on their property.

Cedar Mountain Fire Protection District works with the contractors tasked with snow removal to keep the roads clear after snowfall of 6" or more. Vehicles parked on the roads prohibit snow removal and can make it impossible for emergency vehicles to gain access in an emergency. If you rent your cabin, it is your responsibility to have adequate parking cleared on your property and that renters are aware they cannot park in the roadway.

Property owners are responsible for making sure their property address is posted in a conspicuous place in front of your property.

Numbers must be at least 3" tall to be easily visible from the street.

This will allow emergency personnel to find you or your neighbors in case of a medical or other emergency.

Old subdivision lot numbers must be removed!!(Scroll Down for More)CC&R Compliance

.

Each subdivision within SVPOA has CC&R's that must be adhered to by all property owners.

Kane County ordinances also regulate what property owners' rights and responsibilities are.

If you do not have a copy of your CC&R's, please contact the association at StrawberryValleyPOA@gmail.com and a copy will be provided to you.

No more than two recreational vehicles can be located on a residential property and they cannot remain for more than six months in any calendar year.

All recreational vehicles must be hooked up to an approved septic and potable water system.

Our CC&R's also prohibit cargo containers from being permanently parked on property within our subdivisions. Property owners not in compliance with CC&R's will be noticed to correct deficiencies . If deficiencies are not corrected, legal action may be taken by the SVPOA. It is the responsibility of the SVPOA to protect the rights of all of the property owners, as well as to protect property values for all of us.

---

Community Calendar

Saturday, May 26, 2018
(Memorial Day Weekend)8am Highway Trash Pickup
Meet at Parking Lot on Hwy 14

Call Paul Maaloof at (702) 914-8322

or (435) 682-4011 for more information.

11am Membership Meeting
Strawberry Valley Community Center

Soup and Salad Potluck following the meeting.

Chili, Corn Bread and a Green Salad will be provided. Bring your favorite soup, side dish or dessert.

Don't forget to bring a neighbor too!

Call Salli Shackleford at (702) 596-4309 or

(435) 682-2614 for more information.

​

Saturday, September 1, 2018
(Labor Day Weekend)8am Highway Trash Pickup
Meet at Parking Lot on Hwy 14

Call Paul Maaloof at (702) 914-8322

or (435) 682-4011 for more information.

11am Membership Meeting
Strawberry Valley Community Center

Picnic Potluck following the meeting.

Hot dogs and hamburgers will be provided.

Bring a side dish or dessert as well as your favorite neighbor!

Call Salli Shackleford at (702) 596-4309 or

(435) 682-2614 for more information.

DUST CONTROL

SVPOA residents joined together in 2016 to apply mag chloride to subdivision roads. Ross Weckesser coordinated this effort and he will be coordinating this effort again in 2017. Property owners paid approximately $1.65 per linear foot to apply this dust control to the property adjoining their lots. Talk to your neighbors and you can split the cost and cover more of your neighborhood roads. Please contact Ross for more information at

rossw65@yahoo.com

.

​

---

Like our page and follow us on Facebook!